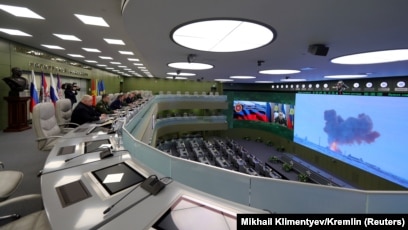 President Vladimir Putin has put Russia's nuclear deterrent forces on high alert amid escalating tensions with the West over his unprovoked invasion of Ukraine.
Speaking at a meeting with senior officials, Putin said on February 27 that leading NATO powers had made "aggressive statements" along with Western countries imposing crippling financial sanctions against Russia, including the president himself.

Putin ordered Russia's defense minister and the chief of the military's General Staff to put the nuclear deterrent forces in a "special regime of combat duty," meaning the country's nuclear weapons would be in an increased state of readiness to launch.

The order immediately raised concerns that the tensions with the West could lead to the use of nuclear weapons.
White House press secretary Jen Psaki said the alert is part of a pattern of Moscow manufacturing threats to justify aggression.
"We've seen him do this time and time again. At no point has Russia been under threat from NATO, has Russia been under threat from Ukraine. This is all a pattern from President Putin and we're going to stand up to it. We have the ability to defend ourselves, but we also need to call out what we're seeing here from President Putin," Psaki said in comments to ABC.
U.S. Ambassador to the United Nations Linda Thomas-Greenfield said the order was an unacceptable escalation.

"It means that President Putin is continuing to escalate this war in a manner that is totally unacceptable and we have to continue to stem his actions in the strongest possible way," Thomas-Greenfield said in interview with CBS.
NATO Secretary-General Jens Stoltenberg expressed alarm, saying it shows how serious the standoff over Russia's invasion of Ukraine is.

On February 26, a group of Western countries agreed to to block access for "selected" Russian banks to the SWIFT financial system and impose "restrictive" measures against Russia's central bank over Putin's unprovoked aggression against Ukraine.

The moves are expected to severely harm Russia's economy and the ruble