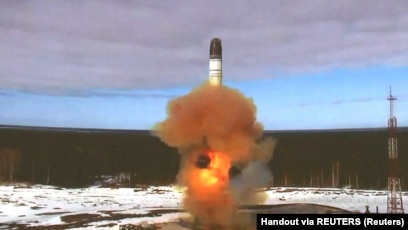 Russian Space Official Says New Nuclear-Capable ICBM To Be Deployed By Fall
The head of Russia's space agency has said the country plans to deploy its first military unit armed with the nuclear-capable Sarmat, a new intercontinental ballistic missile, within months.
Roskosmos Director-General Dmitry Rogozin was quoted by Russian news agency TASS as making the statement in an interview with state television station Rossia-24.
It comes with the Russian armed forces publicly derided by Western military analysts as underperforming, poorly trained, and badly equipped in the Ukraine campaign.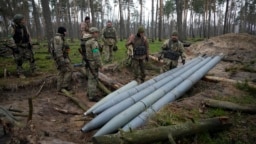 Ukrainian officials, a former Russian foreign minister, and other international observers have accused Moscow of "nuclear blackmail" since the outbreak of war — a serious charge against the leadership of a country with the world's biggest nuclear arsenal by number or warheads.
Rogozin said the Sarmat unit will be based in the Siberian town of Uzhur, in the Krasnoyarsk region, about 3,000 kilometers east of Moscow.
The deployment will happen no later than this autumn, he said.
Russian President Vladimir Putin and other senior officials have repeatedly made veiled references to the country's nuclear arsenal since Putin launched an all-out military invasion of Ukraine on February 24.
Putin ordered Russia's nuclear arsenal on high alert days after the unprovoked invasion began, with the Kremlin citing "Western countries…taking unfriendly actions" through economic sanctions and "aggressive statements against our country."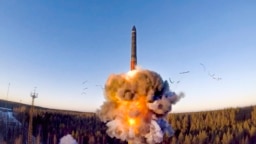 Russia calls Sarmat "the most powerful missile with the longest range of destruction of targets in the world," and Putin has claimed it can overcome "all modern means of anti-missile defense."
Russia tested its Sarmat missile on April 20 in what was regarded as an effort to project strength even as its conventional forces were widely seen to be faltering against Ukrainian professional and volunteer fighters.
Russia properly notified Washington of the launch beforehand, the Pentagon said.
Afterward, Rogozin, who routinely trolls the West on social media and other statements, warned British Prime Minister Boris Johnson in conjunction with purported comments that "if Sarmat is used, none of you will 'consult with each other.'"
Nuclear fears around the Russian invasion have stemmed from more than just atomic weapons.
Russian forces stormed the decommissioned nuclear plant at Chernobyl, kicking up contaminated soil and raising radiation levels there.
And on March 4, Russian troops overran the functioning Zaporizhzhya nuclear power plant, sparking a fire at a plant training facility