Worries over a Taiwan contingency, North Korea and an assertive China have led South Korea and Japan to contemplate their security responses. The programme When Titans Clash takes stock of what's at play in East Asia.
North Korea firing a missile. Its nuclear threat could possibly see a future pushback of a nuclear kind too. (Image source: AP)
04 Jul 2022 06:15AM (Updated: 04 Jul 2022 06:15AM)
TOKYO and SEOUL: He was 11 months old when the United States dropped an atomic bomb over Hiroshima, Japan on August 6, 1945. Each year on the anniversary of the bombing, Yasuhiro Asaeda will head to the Hiroshima Peace Memorial.
His hope is that there will be no repeat of the tragedy. On its 75th anniversary, the survivor of the bombing told The Associated Press: "If the world could be peaceful, that would be the best."
But East Asia's peace is becoming uneasy, and the programme When Titans Clash examines the growing tensions.
For example, amid the worst military tensions between China and Taiwan in 40 years, Russia's invasion of Ukraine has prompted some analysts to question whether Taiwan is next.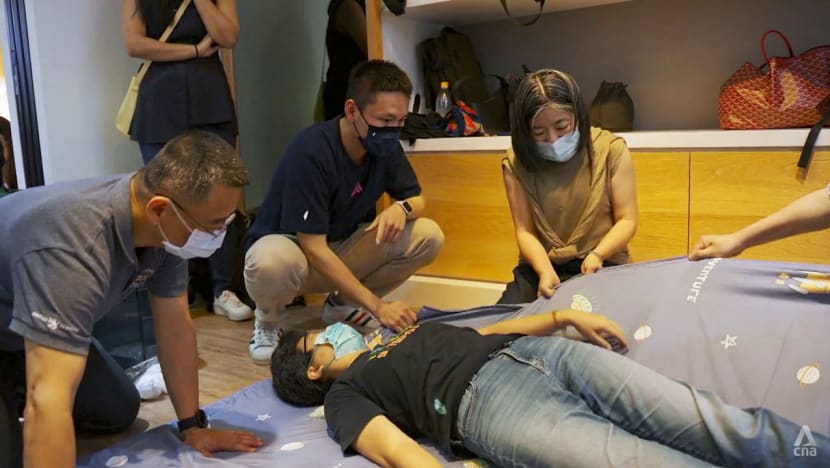 An emergency preparedness workshop in Taiwan.
China has been sending more and more military jets into Taiwan's air defence identification zone since 2020 to signal dissatisfaction and keep the island's fighter fleet stressed.
This zone stretches beyond Taiwan's airspace, covering a broader area that Taiwan monitors for threats.
From this January to May, Taiwan reported 465 incursions by Chinese aircraft, an increase of nearly 50 per cent from the same period last year, according to Agence France-Presse's database.
The superpower rivalry between the US and China has also cast a shadow on Taiwan Strait tensions and other East Asian issues, including North Korea's nuclear threat as well as sour relations between Beijing and Tokyo, and Beijing and Seoul.
For Japan and South Korea, nuclear deterrence has become a bigger consideration in recent months, although any moves on that front would destabilise the region, said some experts.
Both countries come under the US' nuclear umbrella — its promise to protect them with its nuclear weapons in the event of a nuclear attack.
Days after Russia invaded Ukraine on Feb 24, however, former Japanese Prime Minister Shinzo Abe called on his country to consider hosting US nuclear weapons, saying the topic should be discussed without "taboo".
A similar arrangement exists within the North Atlantic Treaty Organisation (NATO), whereby Germany and some other non-nuclear NATO states store US nuclear weapons in their territories and maintain their own means of weapons delivery. This is known as nuclear sharing.