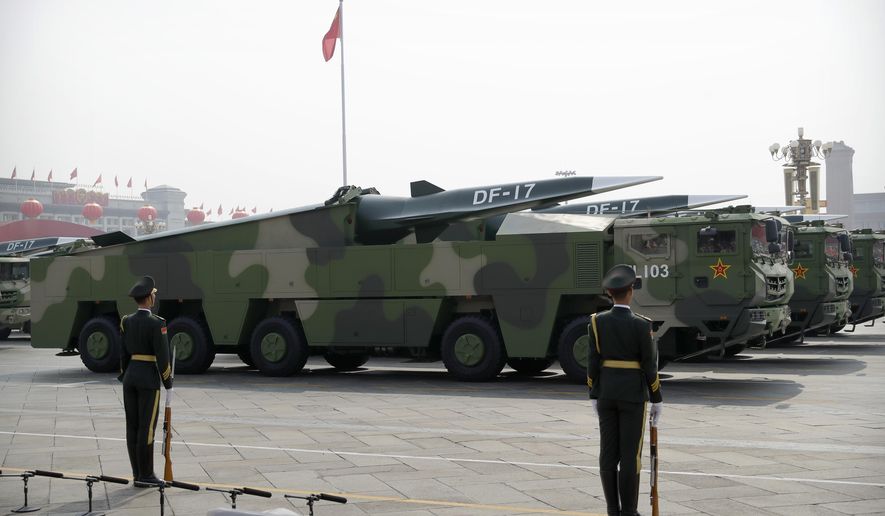 July ICBM launch is Beijing's longest range land attack weapon, U.S. intelligence says
By Bill Gertz – The Washington Times – Tuesday, April 12, 2022
China's test of an orbiting hypersonic missile last year demonstrated Beijing's longest range land attack weapon and is part of a growing arsenal of space warfare capabilities, according to a Defense Intelligence Agency report on space threats released Tuesday.
The hypersonic missile test in July was one element of the arsenal of space weaponry built and deployed by China and Russia that is aimed at attacking U.S. satellites used by the military for communications and precision-guided missiles, the DIA report states. Joint Chiefs of Staff head Gen. Mark A. Milley last fall memorably called the Chinese hypersonic test "very close to a Sputnik moment" for U.S. military planners.
"The loss of space-based communication and navigation services could have a devastating impact on warfighters during a conflict — that's one of the most serious scenarios anticipated," DIA Director Lt. Gen. Scott Berrier said in releasing the report.
"A secure, stable and accessible space domain is crucial as China and Russia's space-based capabilities and electronic-warfare activities continue to grow," Gen. Berrier added.
Space-based electronic systems are used in homes, transportation networks, the electrical grid, banking systems and for conducting military operations around the world, the report said.
---
"Adversaries have observed more than 30 years of U.S. military operations supported by space systems and are now seeking ways to expand their own capabilities and deny the U.S. a space-enabled advantage," the report said.