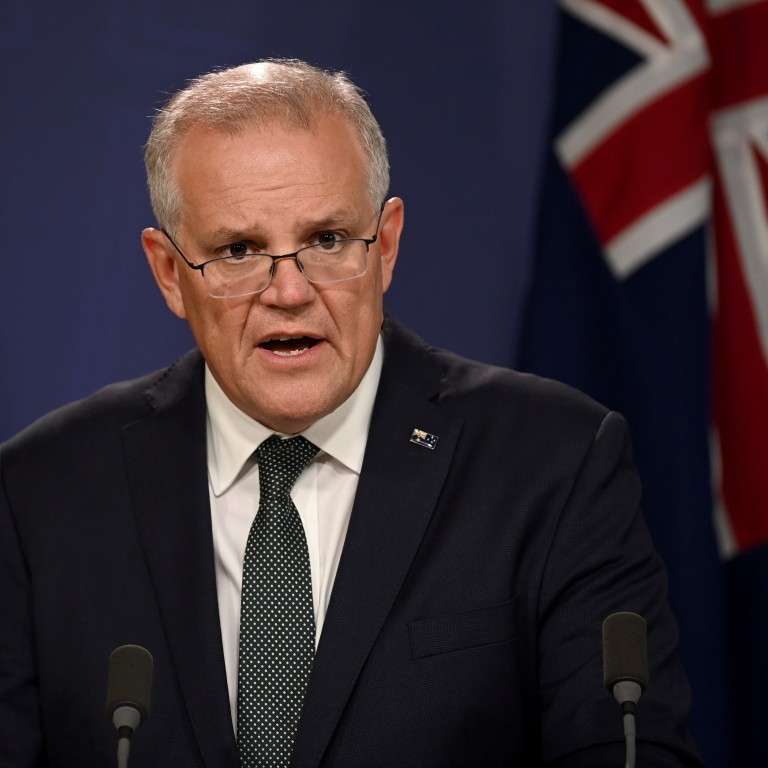 Australian plans come months after signing Indo-Pacific security pact with US and Britain Worsening China ties a major catalyst for decision, says analyst in Shanghai, while another in Hong Kong sees boost to US power in the region
Kristin Huang5:00am, 13 Mar, 2022
Australia's decision to build a nuclear submarine base will pose a threat to China, an analyst has warned, while another said it is a sign for Beijing to rethink its approach to foreign relations.
This comes after Australia announced it would build a new nuclear-powered submarine baseoff its east coast, months after signing an Indo-Pacific security deal with the US and Britain that China slammed as "extremely irresponsible".
The base will cost more than A$10 billion (US$7.3 billion), with "three preferred locations" identified, Prime Minister Scott Morrison said as he announced the plan on Monday, highlighting the need to "deter threats against [Australia's] national interest in the Indo-Pacific".
Australia decided last year to bolster its naval strength by building eight nuclear-powered submarines through Aukus, its security partnership with the United States and Britain signed in September. The submarines would be built in Adelaide, in South Australia, Morrison announced at the time.
A nuclear submarine is a high-speed strategic weapon that can operate for long periods without the need to surface frequently, thus improving the military's deterrence capabilities.
Only six countries currently operate such submarines – Britain, the US, Russia, France, China and India. The US is believed to be at No 1 with about 68, followed by Russia with at least 29 and China with 12.
Canberra's decisions on both Aukus and the new submarine base are reportedly related to the growing threat posed by China, which owns the world's largest naval force and has ramped up activities in the sensitive South China Sea, where it has built several artificial islands and installed weapons on them.
The relationship between China and Australia has been fraught since early 2020, after Canberra was seen to echo US calls for an international investigation into the origin of the coronavirus. The move prompted a backlashfrom Beijing, which eventually slapped a number of trade blocks on items like wine and coal.
A US Navy Los Angeles-class nuclear-powered fast-attack submarine returns to base in Guam. Photo: AP
Shanghai-based military analyst Ni Lexiong said worsening relations with China were an important catalyst for Australia's decision on the new submarine base.
Australia already has one submarine base on its west coast, where its ageing Collins-class fleet is based. The initial work on the new facility is expected to be finished by the end of next year.
"I think the continuing deterioration in [bilateral] ties in recent years is one of the most important reasons that prompted Australia to make the decision to build [nuclear] submarines," Ni said, adding that this also explained why Australia had deepened its security relationships with other countries.
While Ni saw no need for China to take countermeasures, he said Australia's latest decision should prompt a rethink on Beijing's approach to foreign relations.
"It's best that one day these bad ties can be improved, although now it looks unlikely," Ni said.
However, Hong Kong-based military expert Song Zhongping said the new submarine base would pose a threat to China.
"The Australian submarine force can be seen as an important supplement to the US power in the region under the Aukus partnership, so it will of course counter China's influence," Song warned.
"China is also more worried that Australian submarines will make the South China Sea situation even more complicated, as risks of a nuclear submarine collision and other accidents will increase."