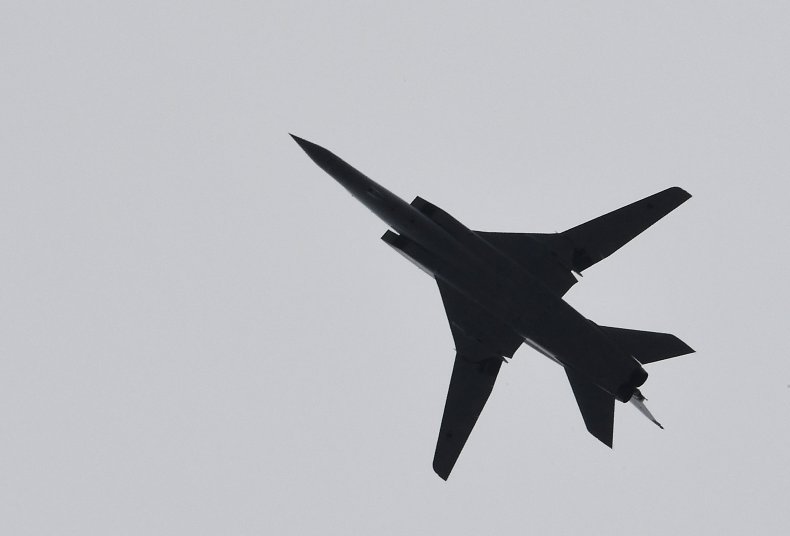 BY JAKE THOMAS ON 2/15/22 AT 11:59 PM EST
NEWSSERGEI SHOIGUBASHAR AL-ASSAD
The Russian military has sent jets and bombers capable of carrying nuclear and other state-of-the-art weapons to Syria for military exercises, as Western countries worry that an invasion of Ukraine is imminent.
Russian Defense Minister Sergei Shoigu traveled to Syria where he met with Syrian President Bashar al-Assad to discuss an exercise by Russia's Navy in the eastern Mediterranean Sea, as well as "various issues of military-technical cooperation between the countries," the ministry said Tuesday.
Shoigu also inspected Russia's Hmeymim airbase where he met pilots of Tu-22m long-range bombers and MiG-31k fighter jets who arrived from Russia to participate in the exercise with the Russian Navy, according to the ministry.
The Tupolev Tu-22M3M is a supersonic long-range bomber the Russian military unveiled last year. Versions of the bomber have been in use since 1962. The most recent nuclear-capable iteration includes upgraded navigation and sighting systems, a more powerful motor and the advanced Kh-32 cruise missiles.
Russian MiG-31k fighters arrived at Hmeymim airbase in Syria for the first time in 2021. The aircraft is capable of firing a Kh-47M2 Kinzhal, or "Dagger," hypersonic missile. The missile has a range of over 1,243 miles and is reported to be capable of traveling 10 times the speed of sound, making it difficult to intercept.
Despite amassing more than 100,000 troops along the Western border with Ukraine, Russia has denied intention to invade the country. Russia's defense ministry said Tuesday that is has begun pulling back troops near the border.
But Western and Ukrainian officials have yet to be reassured. Ukraine's foreign minister Dmitry Kuleba said during a briefing that his country needed to see evidence of a Russian troop withdrawal.
"Different statements are constantly being made from the Russian Federation, so we already have a rule: we will see, then we will believe," Kuleba said. "We will see a diversion—we will believe in de-escalation."
NATO head Jens Stoltenberg similarly said during a Tuesday press conference that he had seen no signs of de-escalation on the ground.
Worried of an impending Russian invasion of Ukraine, Secretary of State Antony Blinken said Monday that the U.S. is relocating its embassy from the capital city of Kyiv to Lviv.
The Russian military exercises included 15 warships of the Pacific, Northern and Black Sea Fleets, in addition to over 30 aircraft of the Russian Aerospace Forces, according to the ministry. The exercises were intended to practice searching for submarines and establishing control "over navigation in the Mediterranean Sea and the flight of aircraft over it."
"The main focus of the ongoing exercise is to practice the actions of the Navy and the Aerospace Forces to protect Russian national interests in the oceans, as well as counter the military threats of the Russian Federation from sea and ocean directions," the ministry said. The drills are also meant to provide training for Russian forces defeating enemy ships, "as well as firing at sea and air targets using artillery and anti-submarine weapons."