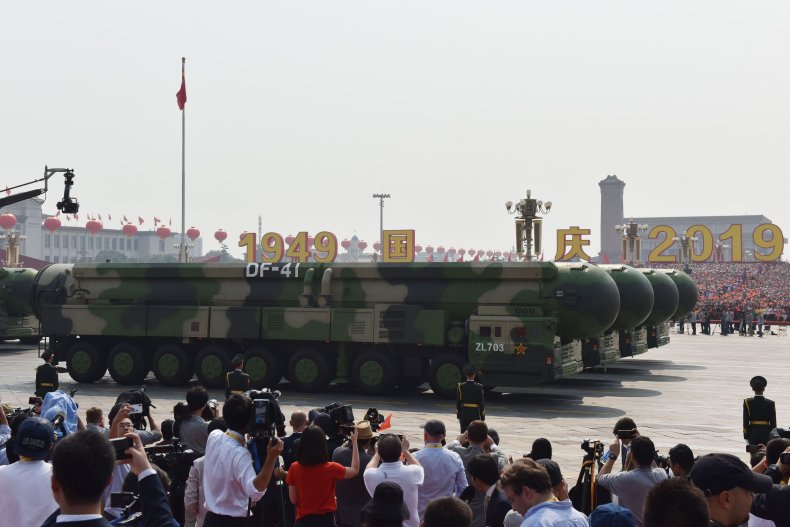 By John Feng On 1/5/22 at 8:06 AM EST
China's endorsement of a rare nonproliferation statement this week may have been its first step toward arms control dialogue with the world's nuclear powers, in which Beijing could finally disclose the true size of its weapons stockpile, an expert has predicted.
The joint statement released concurrently by the five permanent members of the United Nations Security Council—or the "P5″—on Monday committed to preventing the further spread of nuclear weapons. China, of which the estimated warhead count remains dwarfedby those of the United States and Russia, is hesitant to discuss a reduction of its own arsenal, the exact nature of which remains opaque.
According to October 2021 estimates by the Federation of American Scientists, China wields the world's third-largest number of nuclear warheads at 350, but former Cold War arms-race rivals Russia and the U.S. respectively have 6,257 and 5,600, with the figures accounting for all deployed, stockpiled and retired warheads awaiting disarmament. France and the United Kingdom, meanwhile, have 290 and 225 warheads, respectively.
The Defense Department's own analysis suggests China's nuclear warheads number in the low 200s, but it expects Beijing to deploy around 700 by 2027 and at least 1,000 by 2030, the Pentagon said in November 2021's China Military Power Report. U.S. officials have expressed alarm at what they consider a rapid buildup.
Hong Kong-based military analyst Leung Kwok-leung told Taiwan's semi-official Central News Agency on Tuesday that China's part in the joint statement could indicate a readiness to sit down for arms control talks. The dialogue could result in China finally revealing—at least among the P5, if not publicly—the size of its nuclear stockpile.
China is the only P5 state not to disclose its nuclear arsenal. Leung believes Beijing could make transparent the number of nuclear submarines, strategic bombers and nuclear-capable missile silos it operates, but he said the process could take up to a decade or more.
In their statement, the P5 affirmed that "a nuclear war cannot be won and must never be fought." They also recommitted never to target each other or any other country with nuclear weapons.
At a press briefing on Tuesday, State Department spokesperson Ned Price described the five-nation statement as extraordinary and suggested Washington was among its strongest advocates.
"It underscores that even in times of tensions, countries have a responsibility to exercise restraint, especially concerning nuclear weapons," he said. "I called it an extraordinary statement because it really is. It's the first time that all five nuclear weapon states, parties to the Nuclear Nonproliferation Treaty, have affirmed together that a nuclear war cannot be won and must never be fought."
Earlier in the day, Beijing's top arms control official Fu Cong told reporters that U.S. claims about its expanding nuclear arsenal were not true. He also said China's nuclear force shouldn't be estimated based on satellite images.
Fu, who said China would continue to modernize its nuclear weapons, dismissed the possibility of deploying nuclear weapons near Taiwan. "Nuclear weapons are the ultimate deterrent. They are not for war or fighting," he said.
He told China's state broadcaster CGTN that the joint statement was "a document of historical significance." It demonstrates the P5's "collective will to maintain world peace and reduce the risk of a nuclear war," Fu said.
"I think this is important by itself, but also especially against the current background of high tension both in Europe and to a lesser extent in this part of the world. People need to realize this," he said.
The Statista graph below shows the world's estimated nuclear arsenal as of October 2021.