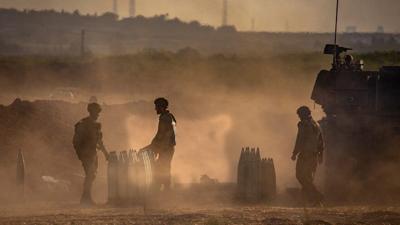 Stories appearing in our World pages originate from aggregated news feeds obtained from various subscription news sources.
The Israel Defense Forces launched a two-day exercise on Tuesday in areas near the Gaza Strip designed to improve its readiness for defensive missions along the volatile border, the military has announced.
"The exercise is intended to improve the IDF's readiness [for defense] along the Gaza Strip border and will examine the way the lessons from 'Operation Guardian of the Walls' … are implemented, while exercising the response to different scenarios of attacks by terrorist organizations from the Gaza Strip, including surprise attacks," the IDF said in its statement.
"The exercise was planned in advance as part of the 2021 training program," it added. "The IDF operates at all times to maintain readiness along the Gaza Strip border with the sole goal of protecting the residents of the south."
The military's Gaza Division, and its Northern and Southern Brigades, conduct routine border-defense missions on an ongoing basis under the auspices of Southern Command.
In March, the IDF and Defense Ministry completed the construction of an underground anti-tunnel barrier straddling the length of Gaza's border with Israel. The IDF has almost finished building a new above-ground border barrier as well, complete with advanced warning sensors.
The post IDF launches exercise to boost military readiness in areas surrounding Gaza appeared first on JNS.org.