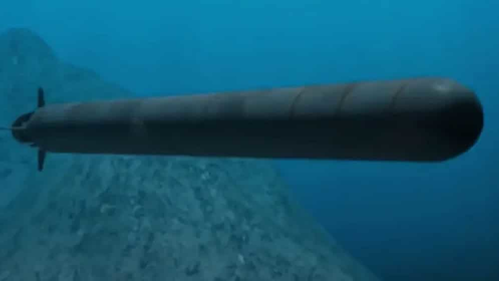 Oct. 4, 2021Poseidons perhaps could be killed by long-range hypersonic glide vehicles, nuclear depth charges, or rocket-launched anti-submarine torpedoes.
MOSCOW – Russia's Status-6 Poseidon torpedo is propelled by a nuclear reactor to a speed of 115 miles per hour and operates at deep depths up to 3,300 feet. It is armed with a massive 100-megaton warhead powerful enough to generate a giant tidal wave to destroy coastal cities. The National Interest reports. Continue reading original article
The Military & Aerospace Electronics take:
4 Oct. 2021 — While the precise capabilities of the underwater nuclearweapon are mysterious, it appears to be about 80 feet long — which makes it more like a mini-submarine or an underwater ballistic missile.
One countermeasure would be to seed the seabed with networks of sensor-mines to detect and destroy Poseidons. Stopping weapons like Poseidon likely will require Western navies to develop a new generation of torpedoes.
"The current families of U.S. Navy and Royal Navy torpedoes were developed to counter fast deep-diving Russian submarines," writes H I Sutton, a naval analyst who runs the Covert Shores blog on naval affairs. "These are likely to be characterized by increases in range and autonomy, blurring the distinction between torpedoes and unmannedunderwater vehicles (UUVs)."
John Keller, chief editor
Military & Aerospace Electronics