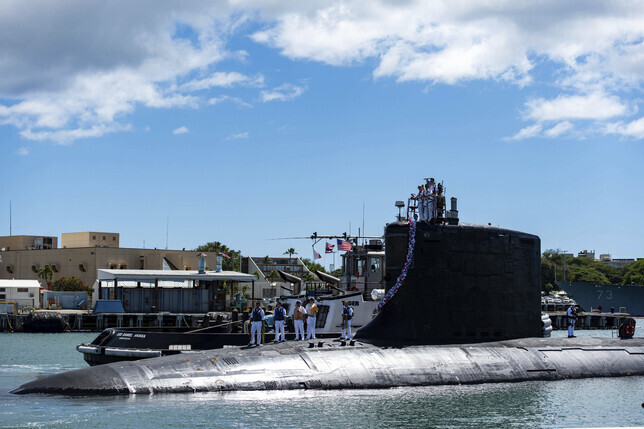 The US Navy's Virginia-class submarine the USS Illinois (SSN-786), sets down its anchor in Hawaii on Sept. 13. (provided by the US Navy) Considering that the first objective of the AUKUS trilateral defense pact that the US, the UK and Australia launched on Sept. 15 is helping Australia acquire nuclear-powered submarines, observers are wondering how this will impact South Korea's own plan to develop nuclear-powered submarines.Developing nuclear submarines was one of South Korean President Moon Jae-in's campaign pledges. "We have entered an era where we need nuclear-powered submarines. To accomplish that, we will discuss revising our nuclear power agreement with the US," Moon said during a presidential debate in April 2017, when he was still a candidate. Since his election, Moon has shown considerable interest in acquiring nuclear-powered submarines. He reportedly brought up the topic of developing them during a phone call with former US President Donald Trump that August. Kim Hyun-jong, second deputy director of the Blue House's National Security Office at the time, expressed a similar commitment to acquiring nuclear-powered submarines in an interview with the press in July 2020. "The next generation of submarines will be equipped with engines that run on nuclear fuel," Kim said.
Is Korea moving toward nuclear propulsion for its 4,000-ton submarines? The military case for nuclear submarines gained a major boost from the news that North Korea was developing the Pukguksong submarine-launched ballistic missile in the mid- and late-2010s. After launching its first missile in the Pukguksong line in May 2015, North Korea proceeded with a test of Pukguksong-3 in October 2019. The North has also featured Pukguksong-4ㅅ and Pukguksong-5ㅅ in military parades in October 2020 and January 2021, respectively. (ㅅ is a Korean letter; it's thought to stand for a Korean word meaning "for use in water"). Around that time, North Korea sent submarines on a clandestine mission deep in South Korean waters, kindling concerns that South Korea would be defenseless against a Pukguksong attack from the rear. That led to calls for Korea to develop nuclear-powered submarines. Advocates say that South Korea could secretly deploy nuclear-powered submarines to lurk near North Korea's submarine bases. The South Korean submarines could then shadow their North Korean counterparts and sink them upon detecting signs of an imminent Pukguksong missile launch. The "2021-2025 Mid-term Defense Plan" published by South Korea's Ministry of National Defense in August 2020 leaves open the possibility of developing nuclear-powered submarines. The ministry described the Jang Bogo III program for building nine submarines of 3,000 tons or greater: three at 3,000 tons, three at 3,600 tons, and three at 4,000 tons. The ROKS Dosan Ahn Changho, which carried out Korea's first successful test launch of a submarine-launched ballistic missile on Sept. 15, is a 3,000-ton submarine that was built as part of that plan. While the Defense Ministry has made clear that it intends to use the conventional diesel-electric propulsion system for the 3,000-ton and 3,600-ton submarines in the pipeline, it has been warier about the 4,000-ton submarines. Officials only say that it is "not appropriate to talk about the propulsion method at the current stage." The implication is that Korea will keep an eye on developments as it decides whether to pursue diesel-electric or nuclear propulsion systems for those submarines.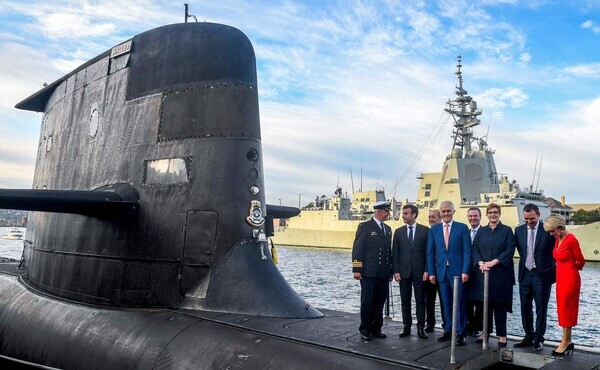 French President Emmanuel Macron (second from left) and former Australian Prime Minister Malcolm Turnbull (center) stand on the deck of the HMAS Waller, a Collins-class submarine operated by the Royal Australian Navy, in Sydney, May 2018. (AP/Yonhap News)
Will the US apply the same standards to Korea as it did to Australia? But if the Korean military is to move forward with developing nuclear-powered submarines, it will have to overcome regulations — as well as staunch opposition and resistance from the US. The biggest obstacle is that Korea can't acquire enriched uranium, the fuel used in nuclear-powered submarines, without American consent. Article 11 of the South Korea-US nuclear cooperation agreement, which was revised in 2015, allows Korea to enrich uranium of up to 20 percent purity, but only with a written agreement between the two countries. Without the consent of the US, therefore, Korea has no way to enrich the uranium needed to fuel nuclear-powered submarines. Some have argued that the nuclear cooperation agreement between the US and South Korea — also known as a 123 agreement — is designed for civilian nuclear reactors and thus isn't binding when it comes to military application. But that argument is of dubious merit considering that Article 13 of the agreement states that nuclear, moderator, and byproduct materials cannot be used for any military purposes.Another option would be to buy enriched uranium for submarine reactors on the international market. That's how Korea acquired all the enriched uranium that's currently in use at its civilian nuclear power plants. But American approval is also required for commercial transactions on the international market. No member of the Nuclear Suppliers Group would be willing to sell enriched uranium to Korea at the risk of friction with the US. It's unlikely that the US would overlook the purchase of enriched uranium for military purposes as it might do with uranium for civilian use. In fact, the US has reportedly been critical of the idea of Korea developing nuclear-powered submarines. When Kim Hyun-jong visited the US in September 2020, some newspapers reported that the US had rejected the plan for building nuclear-powered submarines and acquiring nuclear fuel that Kim supposedly laid out. The Blue House declined to either confirm or deny the reports, stating it couldn't comment about foreign policy and national security matters.But now the US has agreed to join with the UK and Australia for an 18-month joint research project into finding the optimal way for Australia to develop nuclear-powered submarines. That suggests the US' attitude has drastically changed. The fact is that the last country to which the US transferred technology for nuclear-powered submarines was the UK, and that was back in 1958. That leads some to think the US may adopt a more generous attitude toward Korea developing nuclear-powered submarines than it has in the past. To be sure, the US has advised against reading too much into what it describes as an "exceptional" decision to help Australia develop nuclear-powered submarines. "This is frankly an exception to our policy in many respects. I do not anticipate that this will be undertaken in other circumstances going forward. We view this as a one-off," said a senior US official, who described the nuclear-powered submarine technology as extremely sensitive. This official stressed that "Australia has no intention of pursuing nuclear weapons" and that "the Biden administration remains deeply committed to American leadership in nonproliferation."These comments suggest that the US could apply a different standard to Korea's development of nuclear-powered submarines than Australia's. Given the geopolitical environment in Northeast Asia, it wouldn't be easy for the US to even allow Korea to move ahead with such a program, let alone provide technical support. Doing so would leave the US no grounds to block Japan from developing its own nuclear-powered submarines, given its competitive relationship with Korea. That could have a domino effect on nuclear-powered submarine development and potentially provoke an even greater backlash from Beijing, further heightening military tensions in Northeast Asia.
Korea faces uphill battle in developing nuclear-powered submarines North Korea appears to have beaten South Korea to the chase in developing nuclear-powered submarines. At the eighth Congress of the Workers' Party of Korea in January, North Korean leader Kim Jong-un said that the country's researchers had completed the design phases and entered the final review phase for new nuclear-powered submarines. Even if South Korea does gain US' consent to begin independently developing nuclear-powered submarines, there are many obstacles to overcome. Korea is capable of designing its own submarines, including the 3,000-ton submarines in the Jang Bogo III program. That was based on the technological expertise accrued while building ten submarines in the 1,200-ton class (Jang Bogo I program) and in the 1,800-ton class (Jang Bogo II program), with technical assistance from Germany, over the past few decades. Korea also appears to have the basic technology for building the nuclear reactors that propel advanced submarines. Since the late 1990s, South Korea has developed the SMART reactor (330 megawatts thermal power), a small system-integrated reactor intended for seawater desalination, with Russian technical support. Korean researchers have also developed a proven reactor called SMART-P (65 megawatts thermal power) that's just one-fifth the size of SMART. Korea's military authorities expect that existing technology could serve as the basis for acquiring a reactor to power submarines within a few years. But critics say that independently building nuclear-powered facilities isn't within Korea's technological reach yet. A nuclear-powered submarine means more than simply sticking a nuclear propulsion system onto a conventional submarine. A nuclear-powered submarine travels much faster and much deeper than a conventional submarine, so it must be designed anew for those requirements. That means that engineers who've only designed conventional submarines up to now could run into unexpected challenges while trying to design and build nuclear-powered submarines. Some experts cite noise as being one technical hurdle posed by nuclear-powered submarines. Submarines depend upon their stealth and silence, but nuclear-powered submarines are much louder than conventional submarines.Sources say that even the US, a leader in the field, needed years of experience and technological development to successfully dampen the noise of its nuclear-powered submarines. The implication is that Korea, which is just dipping its toe into the field, would have trouble developing technology to dampen the noise of the reactor's cooling system and speed reduction gear without technical assistance from the US or another country. By Park Byong-su, senior staff writer Please direct questions or comments to [english@hani.co.kr]