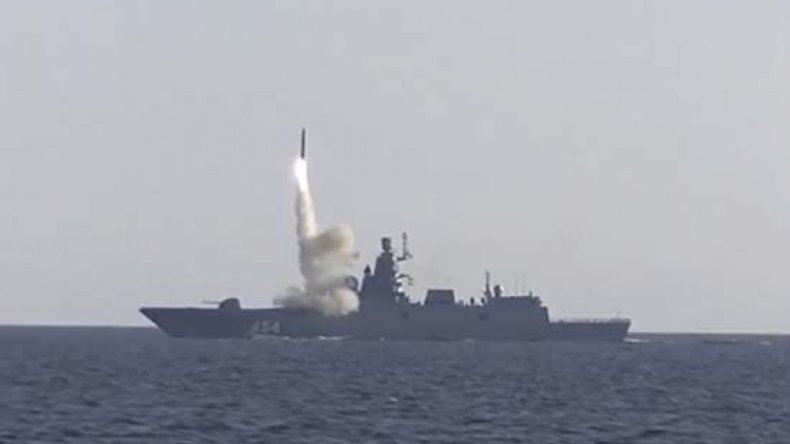 By James Crump On 8/24/21 at 12:36 PM EDT
Russia's Defense Ministry has signed a deal with a contractor to deliver Tsirkon hypersonic missiles to Russian troops by 2025, as President Vladimir Putinhas vowed to put the weapons on "combat alert."
"A government contract on the delivery of the 3M22 missile (the Tsirkon hypersonic missile) has been signed," the defense ministry said in a statement shared with Russian state news agency TASS on Tuesday.
"The contract has been handed to CEO of the Research and Production Association of Machine-Building Alexander Leonov at the [Army-2021] international military-technical forum."
Speaking to TASS at the forum on Tuesday, Leonov confirmed that "the contract on Tsirkon missiles will be fulfilled by 2025. The missile has been standardized and can be used both from surface ships and submarines. The only difference is in the launcher used on surface ships or submarines."
The Russian state agency reported that Putin had earlier said that the missile would go on "combat alert" soon.
The multi-purpose missile, which is developed by the rocket design bureau NPO Mashinostroyenia, is claimed to have been designed to strike targets on land and sea from over 1,000 kilometers (620 miles) away and is capable of flying nine times the speed of sound.
In July, the defense ministry announced the successful launch from its Admiral Gorshkov warship of the missile, which it said traveled at seven times the speed of sound and was fired from the White Sea to hit its target more than 200 miles away on the Barents Sea.
"During the tests, the tactical and technical characteristics of the Zircon missile were confirmed," the defense ministry said as it posted a video from the launch to its social media channels.
Russia later said that it was hopeful that it could equip its submarines and surface ships with the Tsirkon missile system, and has reportedly scheduled tests of the weapon from a submarine carrier at the end of August.
Although initial reports suggested that the tests would occur in June, TASS reported in early August that the missile will be tested from the Northern Fleet's Yasen-class Severodvinsk nuclear-powered submarine by the end of this month.
"Flight design tests of the Tsirkon rocket from Severodvinsk will begin at the end of August. It is planned to complete several launches before the White Sea freezes over," a source told the agency.
The Tsirkon missile has been repeatedly touted by Putin as being part of a new generation of missile systems he claims are more advanced than any other country's weapons.
Russia previously tested a launch of the Tsirkon missile on Putin's birthday on October 7, 2020, with him describing it as a "great event not just in the life of our armed forces but for all of Russia."
Putin added he believed Russia's weapons are unequaled anywhere in the world and "will without doubt in the long term boost the defense capabilities of our state."
Newsweek has contacted the U.S. Department of Defense for comment.