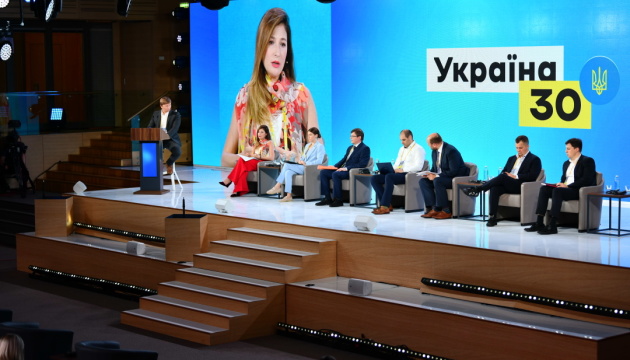 06.07.2021 15:37
"Russia is actively building the Crimean military infrastructure for its nuclear weapons, reconstructing the infrastructure of Soviet-era nuclear warhead storages. Potential nuclear delivery vehicles have already been deployed on the peninsula," First Deputy Minister of Foreign Affairs of Ukraine Emine Dzheppar said at the All-Ukrainian Forum "Ukraine 30. International Relations" on July 6, an Ukrinform correspondent reports.
She noted that Russia was trying to consolidate its rule in Crimea by turning it into a huge military base, constantly increasing the number of troops and equipment in occupied Crimea.
"Recently, the Kremlin has gone even further. Under the guise of military exercises, it closed part of the Black Sea, including in the direction of the Kerch Strait for foreign warships and state vessels for six months. In addition, the Russian president gave the Russian National Guard the right to block the waters of the Black Sea and the Sea of Azov. Indeed, it creates significant obstacles to international navigation, threatens the security and stability of Ukraine, in the world and in Southeastern Europe," the First Deputy Minister emphasized.
On July 2, Russian President Vladimir Putin signed a law that allows the Russian National Guard to "block the territories and waters of facilities to stop attempts of illegal intrusion."
According to the explanatory note to the law, the Russian National Guard protects, among other things, the waters of the Kerch Strait and the bridge built by Russia across it, as well as the waters of the Russian energy bridge with Crimea.
Earlier it was reported that the U.S. mission to the OSCE called on Russia to cancel its decision to block the passage of some ships in the Kerch Strait.
Earlier, the Ministry of Foreign Affairs of Ukraine protested against the fact that Russia had announced the closure of part of Black Sea waters in the direction of the Kerch Strait for warships and state ships of other countries under the pretext of military exercises until October 2021ol