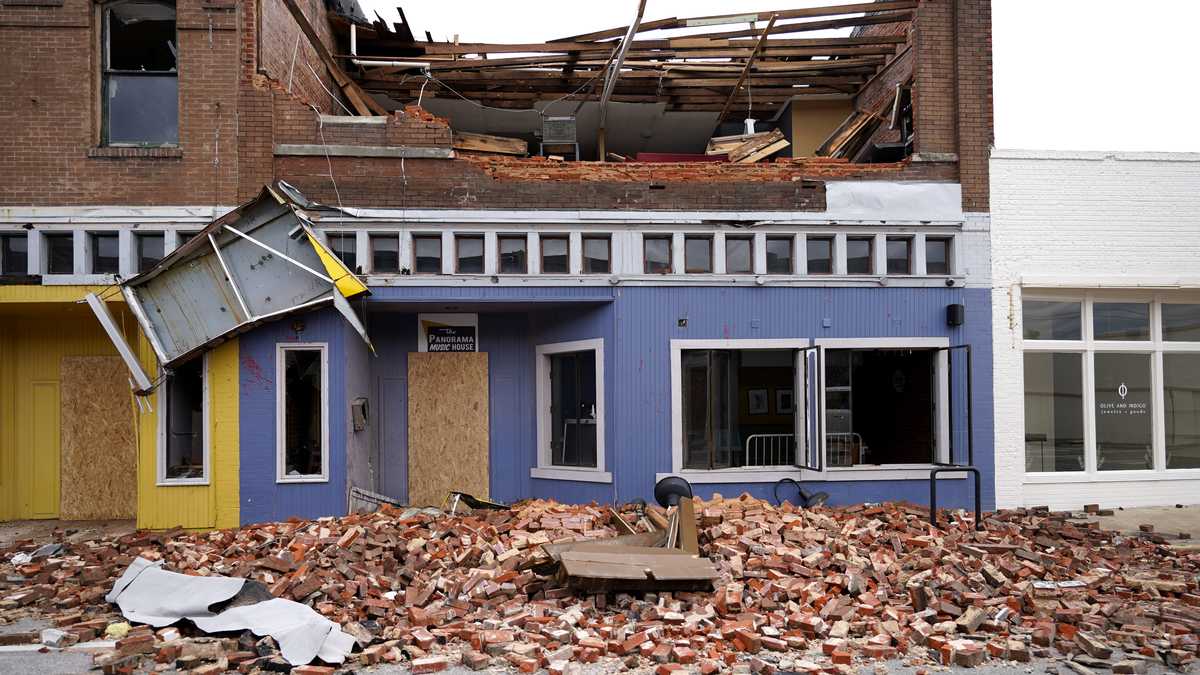 After making landfall as one of the strongest storms to hit Louisiana on record, Hurricane Laura steamrolled up through the state on Thursday, leaving a trail of far-flung damage in its wake.
The storm, which came ashore near Cameron, La., after midnight as a Category 4 hurricane, brought 150-mile-an-hour winds and a major storm surge out of the Gulf, ripping the facades off brick buildings in Lake Charles, La., and swatting telephone poles to the ground. Laura weakened as it moved inland, but remained destructive, with strong winds and heavy rain, and the potential to spawn deadly tornadoes.
The first confirmed U.S. death from the storm was that of a 14-year-old girl in Leesville, La., a small city about 100 miles inland. According to the Louisiana governor's office, the girl was killed when a tree fell on her family's home. Two more deaths were later confirmed in Jackson and Acadia parishes.
Hurricane Laura, one of the strongest U.S. storms on record, moved north through Louisiana after making landfall as a Category 4 storm early Thursday.CreditCredit…Emily Kask for The New York Times
At noon Central time, the storm had passed through Leesville and was centered west of Grambling, La., about 50 miles east of Shreveport, according to the National Hurricane Center. The storm was trudging north-northeast at 15 miles an hour, with maximum sustained winds of 70 miles an hour — just below the Category 1 hurricane range — and it was expected to diminish to a tropical depression Thursday night.
People on the ground in southwestern Louisiana described catastrophic damage to buildings and vehicles, apparently more from the storm's punishing winds than from its much-feared storm surge. In Lake Charles, La., a regional hub known for its petrochemical plants and crowded casinos, commercial buildings were peeled apart, exposing insulation and wood frames. Billboards were punched out and trees snapped in half. A fire was burning somewhere within the sprawl of petrochemical plants just outside downtown, filling the air with a brown haze and an acrid smell.
Gusts had blown out dozens of windows in high-rise office buildings, ripped the top off a sky bridge and tipped an R.V. on its side. The whistling winds mimicked the alarm-like sounds that could be heard inside buildings, according to videos on social media.
Landfall came after officials in both Louisiana and Texas issued the gravest of warnings about the storm, which was among the strongest ever to hit the United States and tied for the strongest ever to hit Louisiana, according to data compiled by Philip Klotzbach, a research scientist at Colorado State University who studies hurricanes. At the peak, more than 1.5 million people in the coastal regions of Texas and Louisiana were under some form of evacuation orders.
Utility companies reported that about 404,000 customers in Louisiana and another 104,000 in Texas were without power Thursday morning, according to PowerOutage.us.
The full extent of damage will not be known until the winds die down, the storm surge recedes and residents and officials can survey the wreckage.Map: Tracking Hurricane Laura's PathMaps showing Hurricane Laura's path, storm surge and rainfall.
Gov. John Bel Edwards of Louisiana said Thursday morning that his state had been hit with "extensive" damage to structures, particularly in the Lake Charles area. Search and rescue teams were on their way, he said, and by midmorning, pickup trucks hauling aluminum boats were driving through the streets of the otherwise empty city.
"We believe we got a break on the storm surge," at least so far, the governor said on CNN, noting that the surge had not appeared to reach the extreme heights that forecasters said were possible. But there was still considerable flooding.
Governor Edwards said the state was taking Covid-19 precautions at shelters and in its rescue efforts; many of those who were evacuated on state-run shuttles were brought to hotels in Baton Rouge and elsewhere rather than large congregate shelters like gymnasiums. If such steps were not taken, the governor said, Louisiana could "pay the price" in a couple of weeks with a surge in coronavirus cases.