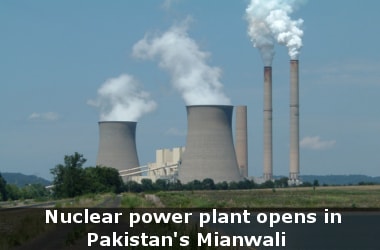 SDGs & civilian nuclear technology in Pakistan
On May 28, Pakistan celebrates the annual anniversary of its first nuclear weapon test. Pakistan's nuclear weapons are aimed to secure its traditional national security and maintain deterrence stability in South Asia. Pakistan's nuclear diplomacy has underscored its national policy to deter aggression from India. It collaborates with the international community against threat to nuclear non-proliferation regime. Further, it declares these nuclear weapons as 'weapon of peace'.
Apart from traditional security, Pakistan is fully determined to achieve its non-traditional national security challenges. In this regard, the peaceful role of nuclear technology is commendable under Pakistan Atomic Energy Commission (PAEC) that is fully resolvedtowards achieving socio-economic development. Pakistan is pursuing an instrumental role of civilian use of nuclear technology by culminating different 2030United Nations Sustainable Development Goals (SDGs) for national prosperity in future.
Chairman of PAEC Muhammad Naeem stated in recent conference paper titled The Pakistani National Perspective on Nuclear Nonproliferation Regime on 8 April, 2020 that the genesis of Pakistan's nuclear program was when we joined the US 'Atoms for Peace' programme in late fifties. We were among the founding members of the IAEA. Since the establishment of PAEC in 1956, we have been working to use nuclear science & technology for socio-economic development and have made some significant strides. To follow the military path of nuclear energy was forced on Pakistan by events of separation in 1971 and so-called peaceful nuclear explosion in our neighborhood in 1974. Despite this, our military nuclear capability is for self-defence and we have always demonstrated restraint and responsibility…Having made considerable progress in the nuclear research and development, Pakistan has also attained significant supplier's capability. We have in the past and are currently also manufacturing heavy parts and equipment and providing technical assistance to [European Organization for Nuclear Research] CERN.
Considering the scope of these 2030 UN SDGs, it is aimed at covering basic necessities of life. It also calls for fulfilling the elementary voluntary moral obligations with respect to each state's national development. Total seventeen (17) SDGs related to zero hunger, good health and well-being , quality education, gender equality , clean water and sanitation, affordable and clean energy, decent work and economic goals, climate action, life below water and others provides a national framework to all states.
Pakistan, on 63rd International Atomic Energy Agency (IAEA) General Conference, hosted its sideline eventnamed as 'Atom for Sustainable Development' by projecting its resolve for peaceful use of nuclear technology in food, agriculture, health, education, hydrology, climate change, electricity generation, industry, innovation and infrastructure' in Sep, 2019. All these domains signifiy Pakistan's national contribution towards enhancing its capabilities in minimising the non-traditional security threats.
Pakistan is also facing political hinderances for seeking international collaboration over desire to cons
For instance, under goal of 'zero hunger', PAEC is providing total 111 crops varieties through using state-of-the-art nuclear technology under institutions like Nuclear Institute for Agriculture (NIA), Nuclear Institute for Food and Agriculture (NIFA), National Institute for Biotechnology and Genetic Engineering (NIBGE) and Nuclear Institute for Agriculture and Biology (NIAB). The 'good health and well-being' goal is promised byestablishing 18 cancer hospitals across the country for better health facilities. Pakistan is also become a part of the IAEA Program for Action in Cancer Therapy (PACT) under enhancing its national cancer control programme.
The goal of 'affordable and clean energy' is envisioned in achieving 40,000MW electricity by 2030 and currently, 5 nuclear power plants are under construction. Similarly, the goal of 'quality education' and 'industry, innovationand infrastructure' provides world class training at Nuclear Science & Technology (PINSTECH), Pakistan Institute of Engineering & Applied Sciences (PIEAS), Karachi Institute of Power Engineering (KINPOE) and CHASNUPP Centre of Nuclear Training (CHASCENT).
However, PAEC's role in further advancing the peaceful role of nuclear technology is facing challenges at international front. Pakistan's access to medical and educational equipments has been restricted from technologically advanced states including the United States and other Asian and European states. Their mentioned entity lists targeting Pakistan's companies seeking civil use of nuclear technology needs to be reevaluated based on their existing criteria. It should nothamper one states' socio-economic development goals that underlines its progressive vision towards 2030 UN SDGs. The IAEA also needs to play its role in easing such hinderances for developing country like Pakistan. It should endorse equal right for all states in seeking the civilian use of nuclear technology. This act will open more opportunities for inter-state collaboration and revenues for respective IAEA states. The cross-national expertise will be highly valuable for all stakeholders in this context.
Furthermore, Pakistan is also facing political hinderances for seeking international collaboration over desire to consummate its domestic nuclear energy needs. The Nuclear Suppliers Group (NSG) is the relevant nuclear energy group that facilitates the inter-state cooperation in-terms of civilian nuclear technology and NPPs. Pakistan, along with India, applied for its full NSG membership in 2016. Whereas, their cases remain pending at this group and suffers political polarizationthat offers no solution for easing the path for attaining the nuclear energy in future. Pakistan's proposal for 'criteria-based approach' is prudent for establishing uniform and non-discriminatory approach for all non-nuclear members of Nuclear Nonproliferation Treaty(NPT) including both Pakistan and India.
Despite these challenges, Pakistan's dedication for Atom for Sustainable Development remains effective in facilitating its human resource all basic needs of life. The Covid-19 may offer wide range of challenges to not only Pakistan, but to all world states' in overcoming the non-traditional security challenges. Within IAEA capacity, the ultimate solution can be offered under itsguidelines that should further advance the inter-state cooperation and civil use of nuclear technology in all fields of life.
The author is a Visiting Research Fellow at South Asian Strategic Stability Institute (SASSI)