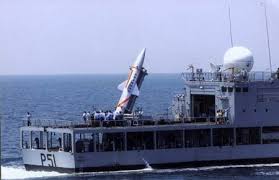 Ankit Panda, The Diplomat
"The missile launch and its flight performance were monitored from [Defense Research and Development Organization (DRDO)] telemetry and radar facilities in the Odisha coast," one official said. DRDO is responsible for the development of India's indigenous defense platforms, including nuclear-capable ballistic missiles.
The Dhanush uses liquid propellant and is a ship-launched ballistic missile (ShLBM) developed from India's Prithvi-II ballistic missile. It is a single-stage missile capable of delivering one nuclear warhead.
In 2017, the U.S. Defense Intelligence Ballistic Missile Analysis Committee assessed that India had two launchers capable of launching the Dhanush ShLBM.
The U.S. assessment puts the Dhanush's range capability at approximately 400 kilometers, but official Indian sources cite a shorter range capability of 350 kilometers with a 500 kilogram payload.
The Dhanush has been inducted into service with the Indian Navy. Analysts have noted that Dhanush may have been intended to fill a stopgap role until India could operationalize a secure undersea deterrent with the commissioning of INS Arihant, the country's first nuclear ballistic missile submarine (SSBN).
Because it is a liquid-fueled missile, the Dhanush must be fueled prior to use at sea, limiting its effectiveness as a second strike tool. Moreover, the Sukyana-class OPVs are not particularly well-suited for evading detection. This latest test of the Dhanush comes following reports that INS Arihant is presently out of commission, following an accident last year. Without the Arihant, India currently has no SSBN capability.
Friday's launch comes amid an unusually busy spate of Indian ballistic missile testing, which has in recent weeks included test-launches of the Agni-V intermediate-range ballistic missile, a user trial of the Agni-II medium-range ballistic missile, and two launches of the Prithvi-II close-range ballistic missile, including a night launch.