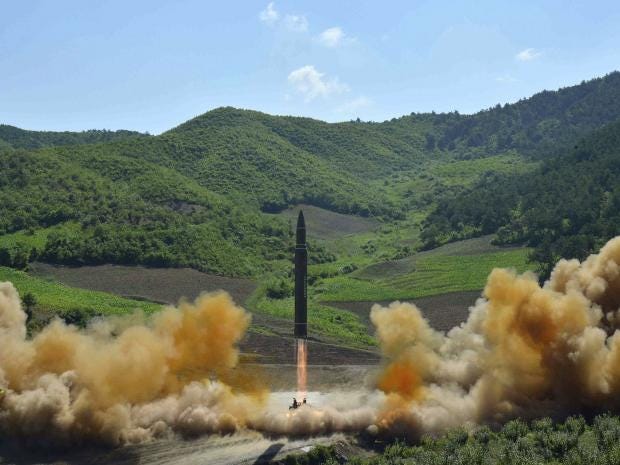 South Korea 'considering developing nuclear programme' to counter threat from North
As North Korea continues to test long-range missiles designed to carry nuclear bombs, the South remains heavily reliant on the US and its allies for defence.
Mr Trump's isolationist rhetoric has caused concern among US allies, as have his calls for Asian countries to take on more of the cost of their defence.
During last year's presidential campaign, the Republican suggested South Korea and Japan should develop their own nuclear arsenals in response to the threat from North Korea.
"Trump's 'America-first' policy has triggered this kind of public sentiment," said Moon Chung In, a national security adviser to South Korean President Moon Jae In.
Mr Moon is against calls for South Korea to develop a nuclear programme but
polls suggest the proposal has the support of a majority of the public.
"They want to strike a better balance of power between South and North Korea, and I also support that position," said Yoon Young Seok, an MP who belongs to the conservative Liberty Korea Party.
South Korea had been trying to develop its own nuclear weapons until the 1970s, when it gave up the programme under pressure from the US. It now relies heavily on the deterrent provided by the US's 4,000 nuclear weapons.
It comes after North Korea conducted its second intercontinental ballistic missile (ICBM) test in the space of a month.
The latest test raised fears that scientists working for the North's leader, Kim Jong Un, had mastered new technology that could 
allow a missile to reach the entire continental US
, American intelligence officials said.
Stabilising engines meant the test had greater height, range and power than the previous missile, which counter the effects of winds and other forces that can knock an ascending rocket off course, one said.